Proposal (633) to South American Classification Committee
Modify linear sequence of genera and species in Emberizidae
Effect on SACC: This would modify the linear sequence of genera and species to reflect the recently published phylogeny of the family by Klicka et al. (2014).
Background: The current sequence is listed below. It is based largely on historical momentum and reflects the transfer of many genera to the Thraupidae and the transfer of Chlorospingus to the family.
Melospiza lincolnii
Zonotrichia capensis
Ammodramus savannarum
Ammodramus humeralis
Ammodramus aurifrons
Rhynchospiza stolzmanni
Rhynchospiza strigiceps
Arremonops tocuyensis
Arremonops conirostris
Arremon taciturnus
Arremon semitorquatus
Arremon franciscanus
Arremon flavirostris
Arremon aurantiirostris
Arremon schlegeli
Arremon abeillei
Arremon brunneinucha
Arremon atricapillus
Arremon basilicus
Arremon perijanus
Arremon phaeopleurus
Arremon phygas
Arremon assimilis
Arremon torquatus
Arremon castaneiceps
Oreothraupis arremonops
Atlapetes albofrenatus
Atlapetes semirufus
Atlapetes personatus
Atlapetes albinucha
Atlapetes melanocephalus
Atlapetes pallidinucha
Atlapetes flaviceps
Atlapetes fuscoolivaceus
Atlapetes tricolor
Atlapetes leucopis
Atlapetes latinuchus
Atlapetes blancae
Atlapetes rufigenis
Atlapetes forbesi
Atlapetes melanopsis
Atlapetes schistaceus
Atlapetes leucopterus
Atlapetes albiceps
Atlapetes pallidiceps
Atlapetes seebohmi
Atlapetes nationi
Atlapetes canigenis
Atlapetes terborghi
Atlapetes melanolaemus
Atlapetes rufinucha
Atlapetes fulviceps
Atlapetes citrinellus
Chlorospingus flavopectus
Chlorospingus tacarcunae
Chlorospingus semifuscus
Chlorospingus parvirostris
Chlorospingus flavigularis
Chlorospingus flavovirens
Chlorospingus canigularis
New information: Klicka et al. (2014) produced the first comprehensive phylogeny for the family, which they further restricted to New World genera under the name Passerellidae. They found that the Emberiza buntings and relatives are not the sister group to the New World sparrows (but that should be the topic of a separate proposal, likely to go to NACC first). The Klicka et al. phylogeny has exceptionally strong taxon sampling (at least for mtDNA) and gene sampling (nuDNA sequenced for subset of critical taxa), so I do not think we ll be seeing anything more detailed any time soon. The support values for most nodes in the tree are strong:
<![if !vml]>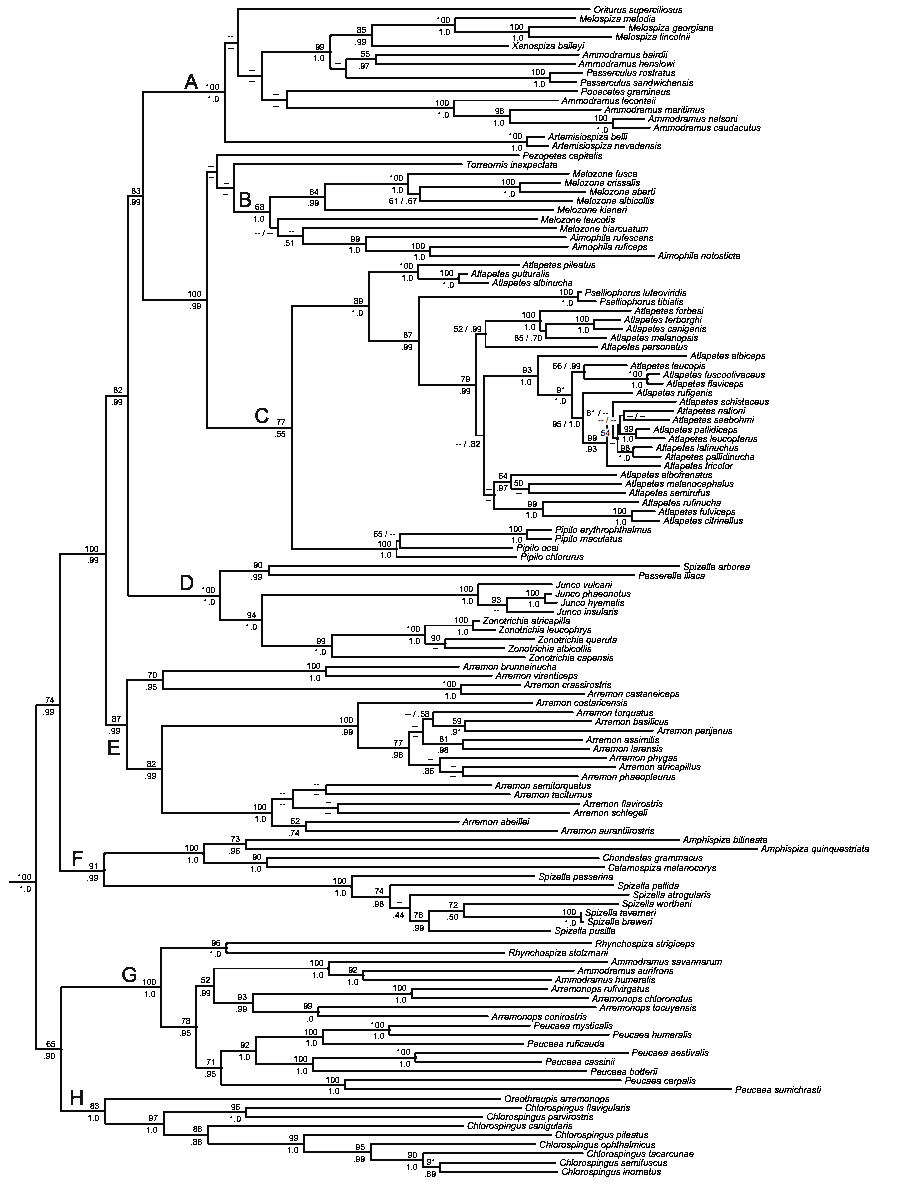 <![endif]>
Using our standard sequencing conventions, the following sequence reflects Klicka et al. s Fig. 1. I included all the taxa restricted to North and Middle America (shaded gray) for completeness, and I used indentation and skipped lines to help mimic the branching pattern. The one area of semi-exception to the conventional rule is in Atlapetes. If you look at the tree, you can see that there are many nodes with little or no support, and even so, Fig. 1 is based entirely on mtDNA and thus may have gene tree/species tree problems. In fact, the *BEAST species tree in Fig. 2c shows a large polytomy among the taxa sampled except for the northern group, of which we only have A. albinucha. The nuDNA-only tree (Fig. 2b) shows a similar pattern. Therefore, the proposed sequence, clearly tentative, is a mix of incorporating the few solid nodes with geography, which is clearly the best predictor of relationships in the genus, not color (as I predicted in an Auk paper back in 1995 or so). The exception to geography as a predictor of relationships would be if the Tepui species personatus is actually more closely related to a cluster of narrowly distributed species in central/southern Peru, which would be very interesting (and which has parallels, I think, in Myioborus and Myiothlypis).
Note that Chlorospingus flavovirens is not in Fig. 1 - -this is because Klicka et al. (2014) found that not only is it not a Chlorospingus but it is a member of the Thraupidae, not Emberizidae/Passerellidae. Until we have a genus for flavovirens, and until we know where in the Thraupidae it goes, I suggest we leave it at the end of Chlorospingus, with appropriate footnote.
One of the many interesting points illuminated by the Klicka et al. (2014) that would be reflected in the new sequence is that Chlorospingus is indeed embedded in the family, but sister to everything except the enigmatic Oreothraupis. Another is that many of us might think of our northern sparrows as a monophyletic group, but they are not. Also, the brush-finches , Atlapetes and former Buarremon, are even more distantly related than was recognized. (Extralimitally, note that the Pselliophorus is really just an Atlapetes, and that Ammodramus and Melozone are polyphyletic.)
Oreothraupis arremonops
Chlorospingus flavigularis
Chlorospingus parvirostris
Chlorospingus canigularis
Chlorospingus pileatus
Chlorospingus flavopectus
Chlorospingus tacarcunae
Chlorospingus inornatus
Chlorospingus semifuscus
[Chlorospingus flavovirens – retained here temporarily pending additional publication]
Rhynchospiza stolzmanni
Rhynchospiza strigiceps
Peucaea carpalis
Peucaea sumichrasti
Peucaea ruficauda
Peucaea humeralis
Peucaea mystacalis
Peucaea botterii
Peucaea cassinii
Peucaea aestivalis
Ammodramus savannarum
Ammodramus humeralis
Ammodramus aurifrons
Arremonops rufivirgatus
Arremonops chloronotus
Arremonops conirostris
Arremonops tocuyensis
Spizella arborea
Spizella passerina
Spizella pallida
Spizella atrogularis
Spizella pusilla
Spizella breweri
Spizella wortheni
Amphispiza bilineata
Amphispiza quinquestriata
Chondestes grammacus
Calamospiza melanocorys
Arremon costaricensis SS
Arremon basilicus SS
Arremon perijanus SS
Arremon atricapillus SS
Arremon phaeopleurus SS
Arremon phygas SS
Arremon assimilis SS
Arremon torquatus SS
Arremon aurantiirostris SS
Arremon abeillei SS
Arremon schlegeli SS
Arremon taciturnus SS
Arremon franciscanus * SS
Arremon semitorquatus SS
Arremon flavirostris SS
Arremon virenticeps
Arremon brunneinucha
Arremon crassirostris
Arremon castaneiceps
Passerella iliaca
Junco hyemalis SS
Junco phaeonotus SS
Junco vulcani SS
Zonotrichia capensis
Zonotrichia leucophrys
Zonotrichia atricapilla
Zonotrichia querula
Zonotrichia albicollis
Artemisiospiza nevadensis
Artemisiospiza belli
Oriturus superciliosus
Pooecetes gramineus
Ammodramus =Ammospiza lecontei
Ammodramus =Ammospiza maritimus
Ammodramus =Ammospiza s nelsoni
Ammodramus =Ammospiza caudacutus