Proposal (778) to South American Classification Committee
Note from Remsen: Below is a proposal submitted to, passed by, and adopted by NACC; see latest NACC Supplement in Auk 2017). For NACC members' comments on this proposal, see: http://checklist.aou.org/nacc/proposals/comments/2017_B_comments_web.html, proposal 2017-B-5). This is a version modified for SACC.
Revise the classification of the Icteridae: (A) add seven subfamilies; (B) split Leistes from Sturnella; and (C) modify the linear sequence of genera
Background: Our current classification of the Icteridae largely follows Dickinson (2003). We do not recognize any subfamilies, and the sequence of genera is as follows:
Psarocolius
Cacicus
Amblycercus
Icterus
Dives
Macroagelaius
Gymnomystax
Hypopyrrhus
Lampropsar
Gnorimopsar
Curaeus
Anumara
Amblyramphus
Agelasticus
Chrysomus
Xanthopsar
Pseudoleistes
Oreopsar
Agelaioides
Molothrus
Quiscalus
Dolichonyx
Sturnella
New information: Scott Lanyon's lab has been working on a gene-based phylogeny of the Icteridae for a couple of decades. This culminated in the paper by Powell et al. (2014), which built a comprehensive phylogeny for the family based on a variety of nuclear and mitochondrial loci for all 108 species, including whole mitochondrial genome sequences for 23 species. Remsen et al. (2016) used these data to propose a revised classification of the family:
<![if !vml]>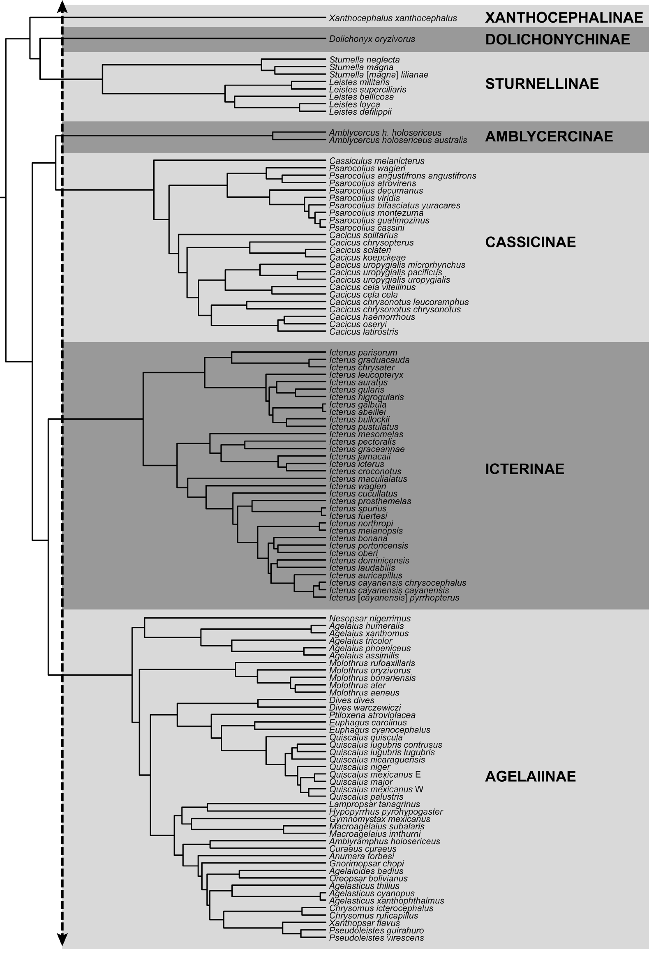 <![endif]>
FIGURE 1. Phylogeny of the New World blackbirds (Icteridae) inferred from mitochondrial and nuclear DNA sequences of 118 taxa (outgroups not shown)—topology taken from the best tree found under maximum likelihood by Powell et al. (2014; fig. 4); branch lengths estimated in BEAST 1.7.4 (lognormal uncorrelated relaxed clock model for mtDNA, strict clock for nDNA; Drummond et al. 2012) using the same data and mitochondrial partitioning as Powell et al. (2014), but nuclear sequences partitioned by locus. Dashed line marks the threshold used to assign subfamily ranks. Species are listed in the order given by this tree topology and (starting from the deepest node) following the conventions of listing the taxon in the least-diverse clade first, or for equally diverse clades, the northwestern-most lineage first.
The biggest surprise is that extralimital Xanthocephalus (Yellow-headed Blackbird) isn't just another yellow-headed blackbird but an old lineage that is sister to all other icterids. The other major surprise is that Amblycercus (Yellow-billed Cacique) is sister to all other caciques and oropendolas. As can be seen in the tree, the family separated into seven lineages relatively early in its history, all roughly 8 million years old. Given this deep divergence, we proposed subfamily rank for each of the seven lineages.
Most of the revisions in generic boundaries had been published in previous papers and have already been dealt with by NACC (e.g., expanded Molothrus) and SACC. The exception was the proposed split of Leistes from Sturnella. (The authors disagreed among themselves on whether to split Icterus into two genera, but such a split would require a new genus name.) We also devised a linear sequence to reflect these phylogenetic data, following standard conventions.
Analysis and Recommendation: This proposal is divided into 4 parts:
A. Recognition of seven subfamilies. Note that the name Cassicinae was corrected to Cacicinae by Schodde & Remsen (2016). I recommend a YES on this because these designations mark seven divergent lineages. I think the only area for debate, other than whether to recognize any subfamilies at all, is whether to place Amblycercus in its own subfamily vs. including it in same subfamily as the caciques and oropendolas. We decided to do this because this split is as old as the other major splits in the family and to also call attention to how divergent this bird is from other "caciques."
B. Split Leistes from Sturnella. The South American group was previously treated in either Leistes or Pezites until Short (1968) provided rational for the merger by pointing out the plumage and morphological similarities among the meadowlarks. What Short did not take into account (and in some cases, could not have known in the pre-gene-based phylogenetic era) was how conservative plumage evolution is in the family in general. For example, as shown by the Lanyon lab, the South American blackbirds long included in Agelaius are only distantly related to them despite similar plumage features. As you can see from the tree, the split between North American and South American members of broadly defined Sturnella is deeper and thus presumably older than that between any two genera in the tree. Therefore, I recommend a return to the pre-Short treatment of the South American species in a separate genus. recommend a YES on splitting Leistes from Sturnella (which has already been done by Dickinson & Christidis 2014). Tangentially, perhaps Alvaro would be interested in doing a proposal for resurrecting Pezites for those species within Leistes.
C. Revise linear sequence. Remsen et al. (2016) used the standard conventions for converting a phylogeny to a linear sequence (e.g., taxa from least-diverse branch first; allotaxa arranged NW to SE) to produce the following sequence (here pruned to reflect only the genera in SACC area). I recommend a YES for this.
Dolichonyx
Leistes
Amblycercus
Psarocolius
Cacicus
Icterus
Molothrus
Dives
Quiscalus
Lampropsar
Hypopyrrhus
Gymnomystax
Macroagelaius
Amblyramphus
Curaeus
Anumara
Gnorimopsar
Agelaioides
Oreopsar
Agelasticus
Chrysomus
Xanthopsar
Pseudoleistes
References:
DICKINSON, E. C., AND L. CHRISTIDIS (eds.). 2014. The Howard and Moore complete checklist of the birds of the World. Vol. 1. Passerines. Aves Press, Eastbourne, U.K., 752 pp.
POWELL, A. F. L. A., F. K. BARKER, S. M. LANYON, K. J. BURNS, J. KLICKA, AND I. J. LOVETTE. 2013. A comprehensive species-level molecular phylogeny of the New World blackbirds (Icteridae). Molecular Phylogenetics and Evolution 71: 94-112.
REMSEN, J. V., JR., A. F. L. A. POWELL, R. SCHODDE, F. K. BARKER, AND S. M. LANYON. 2016. Revised classification of the Icteridae (Aves) based on DNA sequence data. Zootaxa 4093: 285–292.
SCHODDE, R. AND J. V. REMSEN, JR. 2016. Correction of Cassicinae Bonaparte, 1853 (Aves, Icteridae) to Cacicinae Bonaparte, 1853. Zootaxa 4162: 188.
SHORT, L. L. 1968. Sympatry of red-breasted meadowlarks in Argentina, and the taxonomy of meadowlarks (Aves: Leistes, Pezites, and Sturnella). American Museum Novitates 2349: 1-40.
Van Remsen, February 2018
__________________________________________________________
Comments from Stiles:
"A. Yes to 7 subfamilies.
"B. YES to splitting Leistes from Sturnella. A very deep and old divergence justifies generic rank for Leistes.
C. YES; the sequence follows logically from the genetic data."
Comments from Jaramillo:
"A – YES.
"B – YES. I do wonder if reinstating Pezites makes any sense, or just looks good because of familiarity with it? As such, the two small Leistes are not all that different from the large Leistes. So perhaps leave it be?
"C – YES. One thing to consider, and maybe Nacho Areta has a thought on this one. But it seems to me that it may be somewhat on the fence, but an argument could be made to lump Xanthopsar and Pseudoleistes, I do not recall which is the older name. In the field they are quite different, and vocally they seem distinct. I think that a good case can be made for retention of the two genera although their genetic distance is much lower than various other genera in the family which are considered as a single genus."