Proposal (423) to South American Classification Committee
Change linear sequence of genera in Rhinocryptidae
Effect of Proposal: This would change slightly the linear sequence of genera in the Rhinocryptidae
Background:  Genetic data were previously used to re-sequence our rhinocryptid genera as follows (see Proposal 400)
Pteroptochos
Scelorchilus
Liosceles
Acropternis
Rhinocrypta
Teledromas
Psilorhamphus
Merulaxis
Eleoscytalopus
Eugralla
Myornis
Scytalopus
New information:  From our Note 1 in the Rhinocryptidae: "More recent data (Ericson et al. 2009) affirmed much of the above and also confirmed that Psilorhamphus is a rhinocryptid (see Note 4) and is the sister taxon to Liosceles, and that Merulaxis, and Eleoscytalopus are sister taxa and they in turn are sisters to the group that includes Myornis, Eugralla, and Scytalopus.  SACC proposal badly needed to change linear sequence.  Ericson et al. (2009) also found that Pteroptochos and Scelorchilus belong in group "a" above."
Ericson et al. (2009) sequenced three nuclear gene regions in species of all genera of Rhinocryptidae to produce the following tree with generally strongly supported nodes.
<![if !vml]>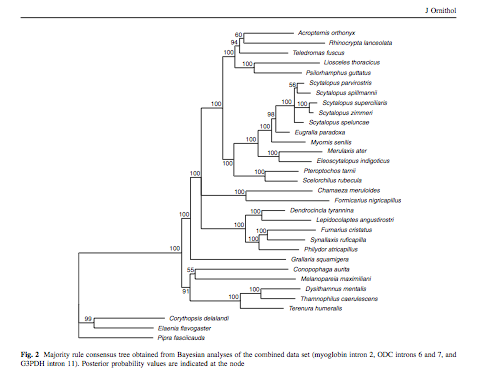 <![endif]>
The major finding in terms of conflict with our current sequence is that Pteroptochos and Scelorchilus group with the Scytalopus group, not the other, large-bodied tapaculos.  Also, Psilorhamphus and Liosceles are sisters.
To change our linear sequence to reflect these results, the minimum perturbation would be to move Pteroptochos and Scelorchilus to precede their sister group, the Scytalopus-like genera, and to move Psilorhamphus next to Acropternis.  Which of those two comes first is entirely arbitrary, but I would recommend Psilorhamphus just to emphasize what a bizarre bird, tapaculo-wise, it is.  Note that its phenotypic similarities to various antbirds led to its inclusion in broadly defined Formicariidae until 1958, and some authors had even proposed that it was a sylviid.
Such a new sequence would be as follows, with changes highlighted in red:
Psilorhamphus
Liosceles
Acropternis
Rhinocrypta
Teledromas
Pteroptochos
Scelorchilus
Merulaxis
Eleoscytalopus
Eugralla
Myornis
Scytalopus
Recommendation: Although other variations are possible, this one produces the fewest changes while retaining the most information in terms of sister relationships, so I recommend a YES.
References:
ERICSON, P. G. P., S. L. OLSON, M. IRESTEDT, H. ALVARENGA, AND J. FJELDSÅ.  2009.  Circumscription of a monophyletic family for the tapaculos (Aves: Rhinocryptidae): Psilorhamphus in and Melanopareia out. J. Ornithology (online).
Van Remsen, March 2010
Comments from Stiles:  "YES, for the reasons advocated by Van, the recommended sequence best combines what we now know about relationships with minimal upheavals to the previous sequence."
Comments from Nores: "YES.  Es aceptable este ordenamiento en base a los análisis moleculares de Ericson et al. Lo que si yo pondría a Myornis antes de Eugralla. En la propuesta # 400 yo ya había llamado la atención de que en la secuencia no estaba el género Eugralla, que tendría que estar al lado de Scytalopus, pero suponía que era una omisión involuntaria. La secuencia quedaría de la siguiente manera:
"Pteroptochos
Scelorchilus
Liosceles
Acropternis
Rhinocrypta
Teledromas
Psilorhamphus
Merulaxis
Eleoscytalopus
Myornis
Eugralla
Scytalopus"
Comments from Schulenberg: "YES.
"There are two recent phylogenies that bear on this question, Moyle et al. (2009), the basis for our current sequence of genera (SACC proposal 400), and a slightly more recent one by Ericson et al. (2010). The two studies included different taxa: Moyle et al. was a broader study with good but not complete sampling of rhinocryptid genera, whereas Ericson et al. was more narrowly focused but included all genera of tapaculos. The two studies also used different genes, and had different numbers of characters (base pairs).
"But there is one major point of divergence between the two competing phylogenies, having to do with the affinities of the Pteroptochos/Scelorchilus clade. Both phylogenies recognize two major clades in Rhinocryptidae, one of which includes Scytalopus and superficially similar genera (Eugralla, Myiornis, etc.) and Merulaxis; the other clade contains the rest of the family, and primarily (although not entirely) consists of large bodied genera (e.g. Rhinocrypta, Liosceles, Acropternis, Teledromas).
"For Moyle et al., the Pteroptochos/Scelorchilus groups belongs to the large bodied clade, whereas Ericson et al. place these two genera in the Scytalopus clade. The proposal as written presents Ericson et al. as the final word on this issue:
"The major finding in terms of conflict with our current sequence is that Pteroptochos and Scelorchilus group with the Scytalopus group, not the other, large-bodied tapaculos."
"I don't necessarily accept that Ericson et al. are correct on this. Their tree was well-supported, but so too was the tree by Moyle et al. with conflicting results. Van's suggested linear arrangement is consistent with both phylogenies, in part I think because he was deliberately trying to minimize changes from our current sequence, which is based on Moyle et al. So I'll vote to accept the proposal. But contra the proposal, I wouldn't go so far as to suggest that we know the true topology of the rhinocryptid phylogenetic tree."
Comments from Cadena: "YES, but I fully echo comments by Tom. The Moyle et al. paper shows a different topology, but we can have a linear sequence that is consistent with both available trees."
Comments from Stotz: "NO.  Sigh.  I am not a fan of using sequence to attempt to show relationships. I have voted for sequence changes in the past and will probably vote for them in the future, but I don't believe the process has much value. There is surprisingly little information in sequences regarding relationships, and as Tom points out this suggested change is consistent with both of the competing recent molecular phylogenies for the family.  So there is no way for somebody to use the suggested order to even know which phylogeny the committee is following.  So what have we gained by disrupting the sequence yet again?  The only piece of information regarding relationships that is directly retrievable from a linear sequence is that if two taxa within a larger taxon are not adjacent, they are not sister.  Anything else requires supposition or reference to other information from outside the classification.  A particular sequence has many potential interpretations. We would do much better to refer users to the phylogenetic tree (if it exists) that best reflects the relationships in the group.
"We are creating unstable sequences time and time again and providing users with little value in terms of understanding of relationships.  I think we would be much better served by doing what most taxonomic groups do and placing taxa within the hierarchy in alphabetical order, making no pretense that sequence can provide useful information on the branching patterns of trees.  This would greatly stabilize sequences and not cost much information about relationships.  We have already done about 35 proposals that are just sequence changes, and there are undoubtedly many more to come unless we rethink our fascination with trying to use sequence to indicate relationships."
Response from Remsen:  "Although I appreciate Doug's points, I continue to be a proponent of linear sequences as reflecting phylogeny as much as possible simply because it groups sisters next to each other and thereby emphasizes their relatedness.  For most people, having close relatives generally near one another is useful.  True, one doesn't know whether a sister is above or below a taxon in a linear sequence, but that's why we explain those things with the Notes.  As for stability, because there is only one true phylogeny, the sequence has the potential to stabilize as we get better at estimating phylogenies.  Also, contra Doug, an alphabetical sequence is not stable either, with the continuing realignment and renaming of taxa at all levels, which can create dramatic shifts in position.  For example, the position of Synallaxis whitneyi can swing violently from near the end to near the beginning of a large genus depending on whether one considers cinerea or whitneyi the correct name."