Proposal (529) to South American Classification Committee
Move Gyalophylax and Siptornopsis to Synallaxis
Effect on SACC: Gyalophylax hellmayri and Siptornopsis hypochondriaca would become Synallaxis hellmayri and Synallaxis hypochondriaca.
Background and new information:
A recent phylogenetic analysis (Derryberry et al. 2011, Evolution) of the Furnariidae with nearly complete species-level taxon sampling found that Gyalophylax and Siptornopsis were deeply embedded within a large Synallaxis clade:
<![if !vml]>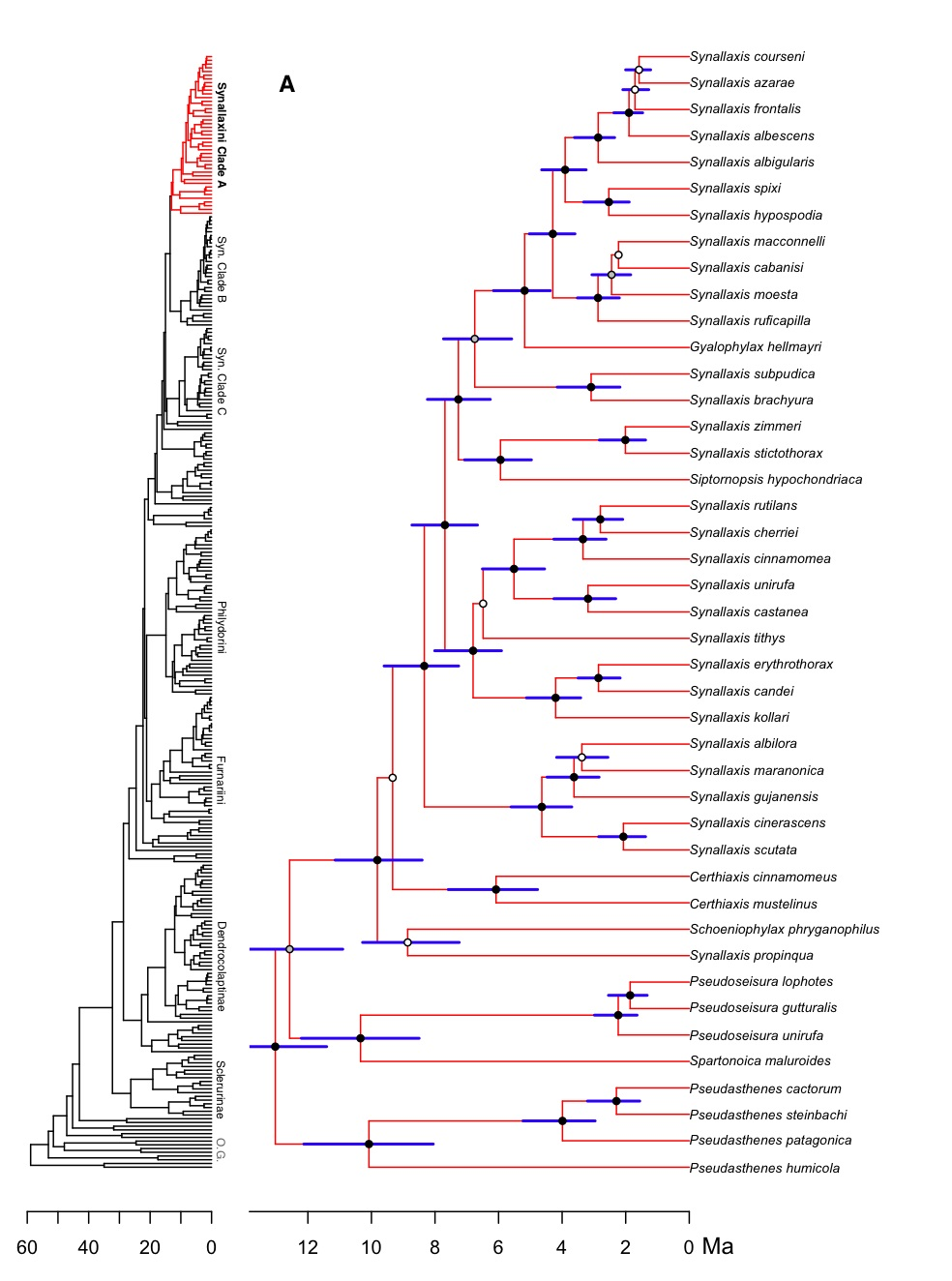 <![endif]>
It is possible that a future treatment could break up this large Synallaxis clade into multiple genera --- particularly the Schoeniophylax/Synallaxis propinqua clade, but overall the phylogenetic depth of the species-rich Synallaxis clade is consistent with other furnariid genera.
Other important information:
The type species of Synallaxis is S. ruficapilla.
Multiple vouchered individuals were sequenced.
Literature Cited:
DERRYBERRY, E., S. CLARAMUNT, G. DERRYBERRY, R. T. CHESSER, J. CRACRAFT, A. ALEIXO, J. PÉREZ-ÉMAN, J. V. REMSEN, JR., & R. T. BRUMFIELD.  2011.  Lineage diversification and morphological evolution in a large-scale continental radiation: the Neotropical ovenbirds and woodcreepers (Aves: Furnariidae).  Evolution 65: 2973–2986.
Robb Brumfield, June 2012
Comments from Stiles: "YES, as the Derryberry et al. phylogeny clearly indicates that these generic changes are necessary."
Comments from Pacheco: "YES.  The transfer is well justified by the results in the recent phylogenetic analysis."
Comments from Robbins: "YES.  This is a straightforward decision given the genetic data."
Comments from Zimmer: "YES.  The phylogeny provided by Derryberry et al. (2011) is very clear that both Gyalophylax and Siptornopsis are embedded within Synallaxis, and this is consistent with what one might predict based upon vocal, morphological and ecological (e.g. nest architecture) characters."
Comments from Nores: "YES. The phylogeny by Derryberry et al. (2011) clearly shows that both Gyalophylax and Siptornopsis are embedded within Synallaxis.  Moreover, as pointed out by Zimmer, this is consistent with what one might predict based upon vocal, morphological, and ecological (e.g. nest architecture) characters."