Proposal (733) to South American Classification Committee
Elevate Zentrygon linearis trinitatis to species rank
Effect on SACC list: if passed, this proposal would add a species, Zentrygon linearis, to the SACC list.
Background: Hellmayr & Seilern (1912) described Geotrygon linearis trinitatis from the island of Trinidad, but this form was generally considered to be indistinguishable from nominate linearis (Mlíkovský 2016 and references therein). Chapman (1914) described Geotrygon pariae from the Península de Paria in Venezuela, but later demoted it to a subspecies in subsequent publications (see Hellmayr & Conover 1942 for a thorough synonimic list). Birds from Trinidad, Tobago, Paria Peninsula, and the Turimiquire massif were considered to belong to trinitatis by Hellmayr & Conover (1942). Note that Mlíkovský (2016) preferred to keep linearis in Geotrygon. I am here following the SACC placement of linearis in Zentrygon.
New information: Mlíkovský (2016) reviewed the taxonomy of Geotrygon linearis trinitatis Hellmayr & Seilern 1912 by examining plumage features and measurements of museum specimens. His data indicate that trinitatis is diagnosable from nominotypical linearis (see Figure 1 and Table 1 below), which led the author to propose full species status for the former.
Recommendation: I agree in that trinitatis is diagnosable from linearis by its smaller size and different nape color. I am less convinced that this automatically should be considered as indicative of species status. Given the large number of subspecies currently recognized within linearis, I would like to see a comparative study that would help us have a better grasp of how species-level taxa would look and sound. For example, my recordings of infusca from the Santa Marta Mountains, nominate linearis from the Andes of Lara in Venezuela, and trinitatis from Paria suggest vocal differences, but a formal study is needed to address consistency and diagnosability in vocal features relevant to mate choice. I recommend a NO vote.
Table 1. Comparison of plumage and morphometric data between Zentrygon linearis linearis and Z. linearis trinitatis. Data extracted from Mlíkovský (2016).
Taxa

Wing-length (mm)

Bill-length (mm)

Bill-depth (mm)

Nape color

linearis

all: 149-160 (8)

males: 150-156 (4)

females: 149 (1)

15.8-17.7 (3)

4.6-5.1 (3)

Bronze

trinitatis

all: 140-150 (8)

males: 140-150 (5)

females: 139-146 (3)

14.0-14.4 (2)

4.2-4.6 (2)

Dark gray
Figure 1. Comparison of specimens of Zentrygon linearis linearis (two on the left) and Z. linearis trinitatis (two on the right). Pictures taken from Figures 1 and 2 in Mlíkovský (2016).
<![if !vml]>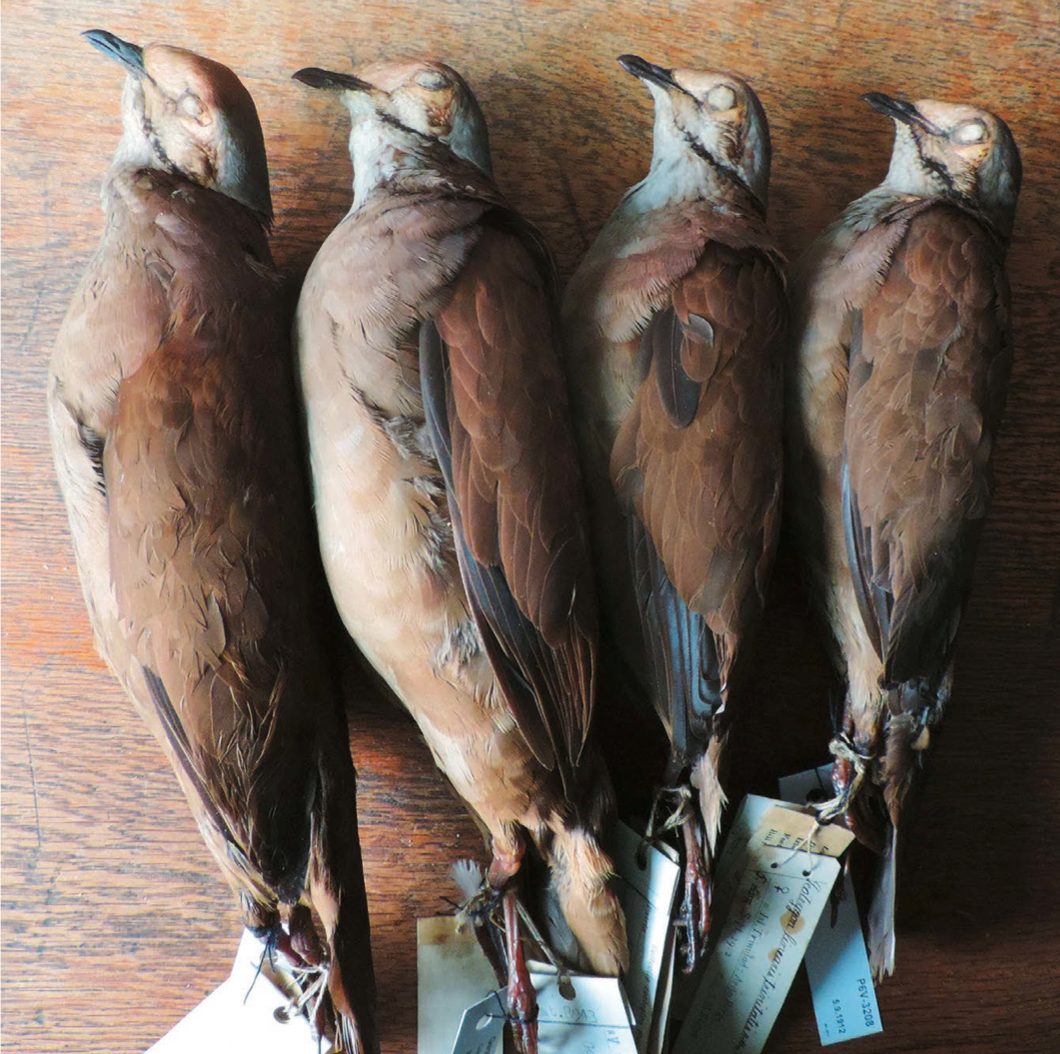 <![endif]>
<![if !vml]>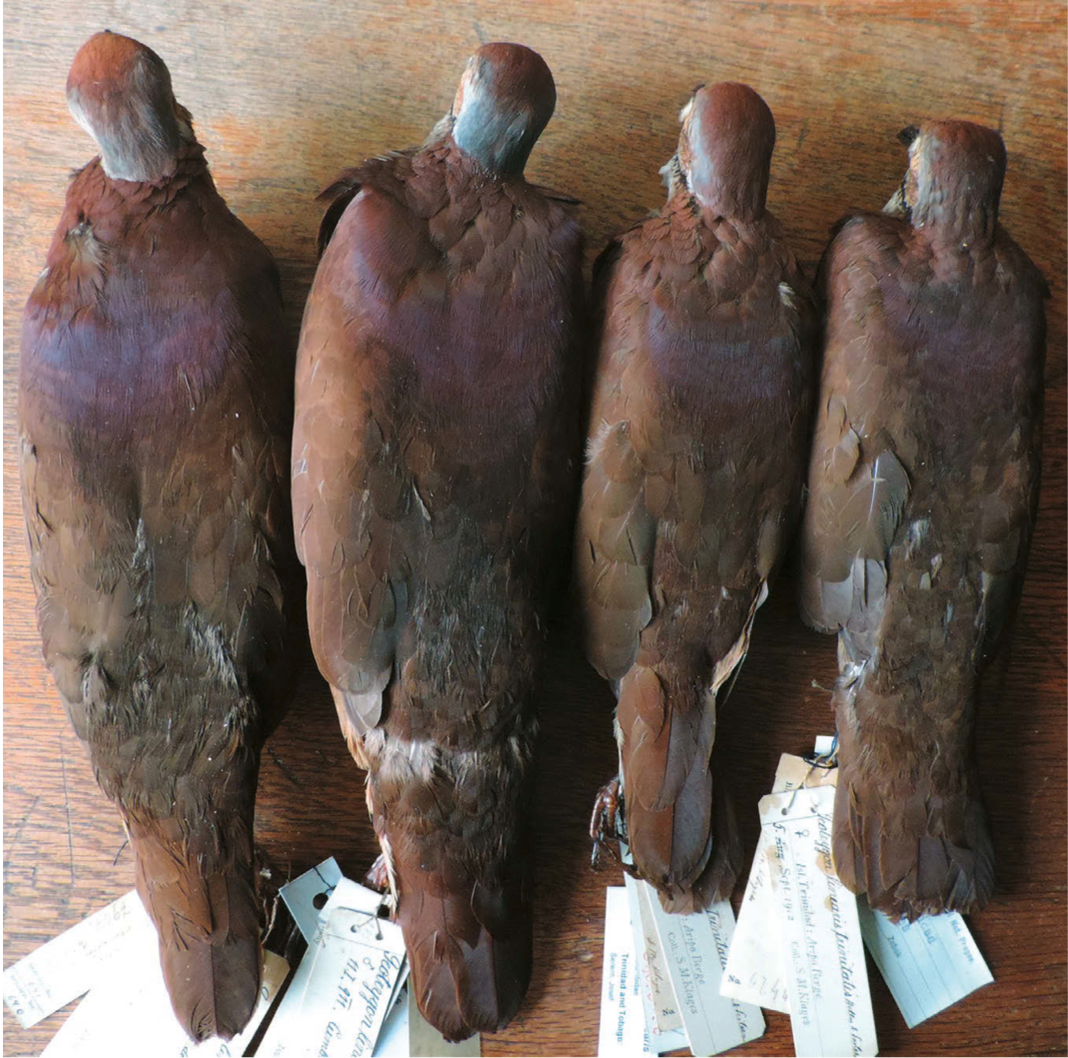 <![endif]>
References
CHAPMAN, F. M. 1914. Descriptions of a new genus and species of birds from Venezuela. Bulletin of the American Museum of Natural History 33: 193-197.
HELLMAYR, C. E., AND B. CONOVER. 1942. Catalogue of birds of the Americas. Field Museum Nat. History Publ., Zool. Ser., vol. 13., pt. 1, no. 1.
HELLMAYR, C.E. AND SEILERN, J. VON 1912. [Description of two new subspecies: Grallaria guatimalensis aripoensis and Geotrygon linearis [sic] from the Island of Trinidad]. Bulletin of the British Ornithologists' Club 31: 13- 14
MLÍKOVSKÝ, J. 2016. Taxonomic status of Geotrygon linearis trinitatis Hellmayr & Seilern, 1912 (Aves, Columbidae). Spixiana 39: 141-144.
Nacho Areta, November 2017
___________________________________________________________
Comments from Remsen: "NO.  Although this was a nice contribution by Mlíkovský to validate that trinitatis is a diagnosable taxon and thus a valid subspecies, no information is presented concerning species limits under BSC, e.g. for allopatric taxa, a comparative analysis of differences in taxa ranked as species vs. subspecies in Zentrygon and relatives.  Given the body mass difference, I would not be surprised that the physics of sound production alone produces a voice of a different pitch.  Anyway, clearly more data are needed."
Comments from Stiles: "NO. Although the morphological and plumage differences do support ranking trinitatis as a diagnosable phylogenetic species, I think that data on vocalizations (and hopefully, genetics) would be necessary to establish it as a biological species. Again, a detailed analysis of the various taxa currently in linearis is definitely needed."
Comments from Pacheco: "NO. The available information does not allow the treatment of full species under the BSC."
Comments from Robbins: "NO, for reasons pointed out in Nacho's proposal."
Comments from Stotz: "NO, based on arguments presented in the proposal."
Comments from Jaramillo: "NO.  An analysis of voice would be useful in this case. While he is at it, he should look into tobagensis White-tipped Dove, which looks and sounds different to my eyes and ears."
Comments from Claramunt: "NO. Size differences and multiple plumage trait differences suggest species-level differentiation but potential clinal variation cannot be ruled out without seeing a detailed analysis of phenotypic variation."