Proposal (772) to South American Classification Committee
Add Ichthyaetus audouinii (Audouin's Gull) to main SACC list
Location
Brickfields lies on the west coast of Trinidad, a vantage viewing point at the centre of a huge tract of tidal mudflats backed by mangrove. It hosts a major wintering population of several thousand Laughing Gulls. Graellsii Lesser Black-backed Gull is regularly found in very small numbers and six other gull spp. have been documented.
Chronological order of observations
This Individual was first found amongst the high tide afternoon roost on 10th December 2016 by a local birder who checks this site several times per week. It was present for an hour or so until sunset. Unfortunately, it was not present the following day nor again until 14th January 2017, despite daily checking. It made a very brief appearance on 14th January again only seen by the original observer. Finally, on 30th March it was found amongst the roost and remained until 3rd April enabling all interested local birders (including myself) to see it. Finally, the bird was photographed by another local bird photographer amongst a small party of Laughing Gulls some 15 miles to the north.
Field description in December
Circumstances: Found amongst a roosting flock of Laughing Gulls together with several Lesser Black-backed Gulls, an adult Franklin's Gull and a 1st winter Ring-billed Gull (the latter two both reportable/reviewable species in T&T)
Size and shape: A large and robust, "medium sized" gull with sloping forehead, peaking behind the eye; long wings and long, rather droop-tipped bill. Considered slightly smaller than nearby Lesser Black-backed Gull but appreciably larger and dwarfing accompanying Laughing Gulls.
Head: mainly white with dusky eye-surrounds, and faint gray-brown flecking to both rear ear coverts and rear crown. Iris black with obvious white upper eye-crescent; the lower crescent being much less conspicuous.
Underparts: Side-neck and upper breast dirty white with extensive brownish mottling, becoming plainer on lower breast and belly.
Upperparts and folded wing: Fore-mantle pale gray with pronounced, large, brownish blotching. Scapulars, lower mantle and rump plainer pale gray, with occasional dark feathers admixed. Wing-coverts and flight feathers brownish-black. Rump and upper tail-coverts white contrasting with wholly black tail.
Stretched upperwing: lesser and median coverts pale gray with irregular brown blotches. Greater and primary coverts brown, fringed pale. Flight feathers blacker, again with pale fringes.
Underwing: predominantly dark brownish-black, with obvious broad very pale central white stripe reaching the inner primaries.
Bare parts: Bill recalling Laughing Gull in shape but much stouter; basally gray darkening towards the tip. Legs gray-black.
Subsequent sightings
During the more extended stay in March-April, the face and underparts became cleaner and whiter with just subdued pale gray mottling on upper breast. Upperparts blotching mainly restricted to the nape. Both mantle and wing coverts were essentially cleaner pale gray with just a few random small brown blotches. Basal 2/3rd of the bill had turned grayish-yellow
From photographs taken in August, the secondaries appear to have broad, white fringes and the inner primaries are much paler in contrast with dark outers.
Known breeding and wintering range
Breeding restricted to the Mediterranean basin, with most birds wintering along the coast of north-west Africa, down to Senegambia.
Identification assessment in Trinidad and elsewhere
We believe this to be an Audouin's Gull in transitional plumage stage from 1st winter – 1st summer. Photographs were forwarded to colleagues in both USA and Europe and indeed posted on various Bird ID forums. All those who responded agreed with our assessment.
Photos:
<![if !vml]>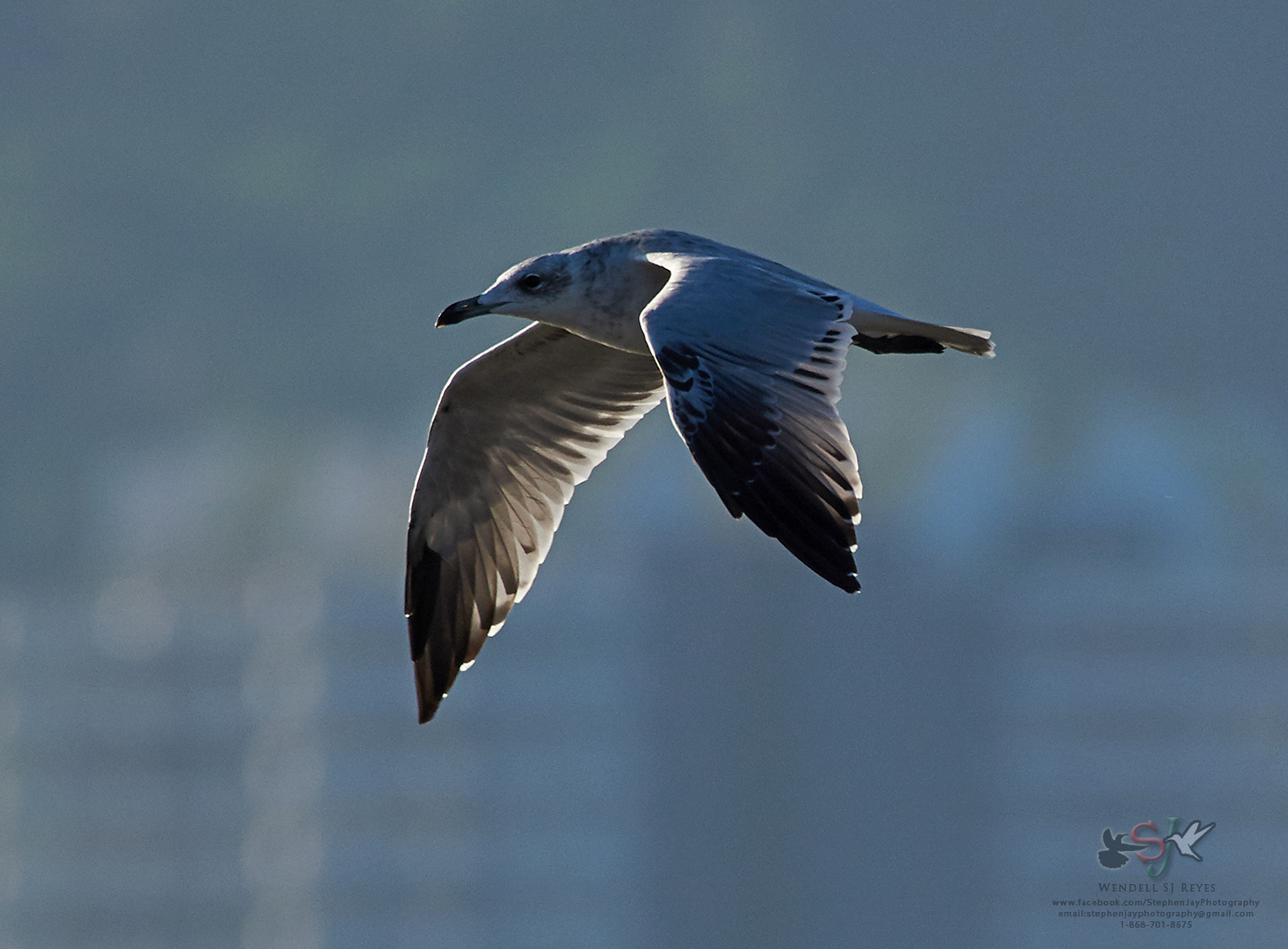 <![endif]>
<![if !vml]>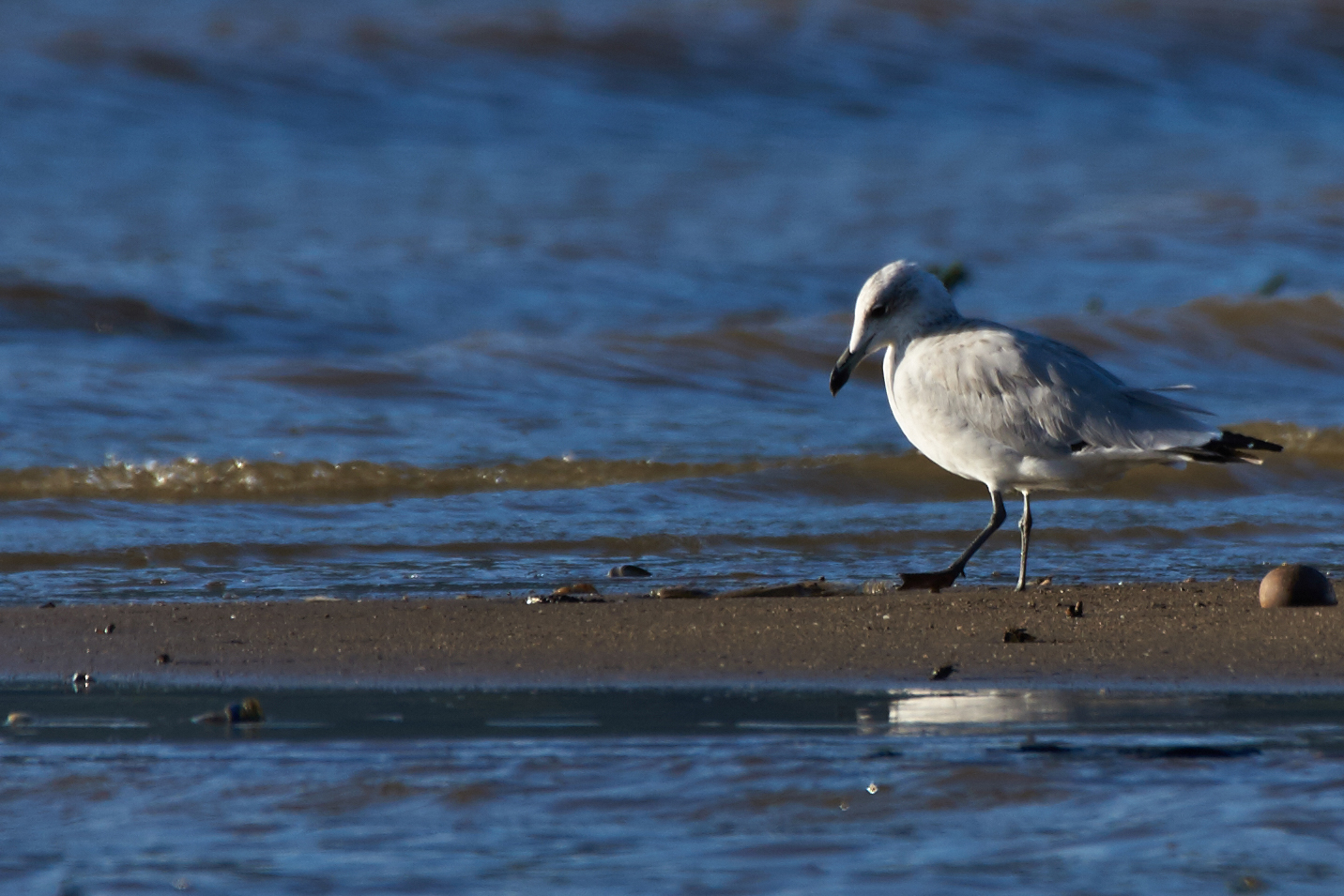 <![endif]>
Conclusion
To the best of our knowledge, this constitutes the first documented sighting of Audouin's Gull both within SACC jurisdiction and indeed on this side of the Atlantic.  This record was accepted by the TTBSDC (Kenefick 2017; Fourteenth Report of the Trinidad and Tobago Birds Status and Distribution Committee Records Submitted during 2016; Living World, J. Trinidad and Tobago Field Naturalist's Club).
Martyn Kenefick, January 2018
Note: Dan Lane pointed out that there are better photos here: http://pioneerbirding.blogspot.co.uk/2016/12/trinidad-audouins-gull.html
__________________________________________________________
Comments from Robbins: "YES.  After looking at the literature and online photos, I'll vote yes for accepting the Audouin's Gull.  The white face, dark ear patch and heavy bill do seem to separate this from other species.  However, I would not have picked this bird out in a large gull roost, and if I had, I would have passed it off as an aberrant Laughing Gull."
Comments from Stiles: "YES. The unanimous agreement by European authorities convinces me – although like Mark, I would not have dared to make a definite identification (although size alone would have ruled out Laughing Gull."
Comments from Areta: "YES. The pictures and accompanying descriptions suffice to diagnose the bird as belonging to this species."
Comments from Zimmer: "YES, based upon the unanimous agreement of European Larophiles consulted, and my own perusal of on-line photographs and ID literature regarding a species with which I have no personal field experience.  Size & structural considerations, along with the paler mantle color, clearly eliminate Laughing Gull from consideration."
Comments from Cadena: "I am going to go with the opinion of experts on gull identification that have confirmed this record and thus vote YES."
Comments from Jaramillo: "YES.  Great to have a distinctive gull such as Audouin's show up, instead of the many more difficult ones that could have shown up. This or another is apparently being seen in the Suriname from what I have heard."
Comments from Pacheco: "YES. From the quality of the photographs and opinions of the specialists consulted."