Proposal (794) to South American Classification Committee
Add Northern Fulmar (Fulmarus glacialis) to the South American checklist
Effect on Checklist: It would add the Northern Fulmar (Fulmarus glacialis) to the South American and Chilean checklist.
New Information: On 11 February 2017 a dark morph Northern Fulmar was seen and photographed approximately 17 km from Valparaiso, V Region, Chile (Marín et al. 2017). The photos are clear and diagnostic, and show a brownish colored individual, with some photos alongside typical species of the Chilean pelagic realm, such as Wilson's Storm-Petrel and Salvin's Albatross. The size, relative to birds it was photographed with, overall structure with bull necked look, relatively stocky nature and not particularly long wins, as well as the bulky pale bill with prominent nasal tubes clarify that it is a fulmar, not a dark shearwater, Pterodroma or Procellaria. A melanistic or oddly plumaged Southern Fulmar (Fulmarus  glacialoides) can be excluded by the bulkier structure of this bird, as well as bill color. The Chilean bird shows a yellow toned bill with an orange-toned bill tip, unlike the pinkish orange bill with dark tip of Southern Fulmar. The fact that the Chilean bird was a dark morph, as well as photos that show a relatively dark tail that does not contrast in darkness from the rump, strongly suggests it is of the Pacific Subspecies rogersi as noted in Marin et al. 2017.
Note that this is not the first record for the Southern Hemisphere. One was photographed off the Snares Is., New Zealand, in 2014 (Miskelly 2016).
<![if !vml]>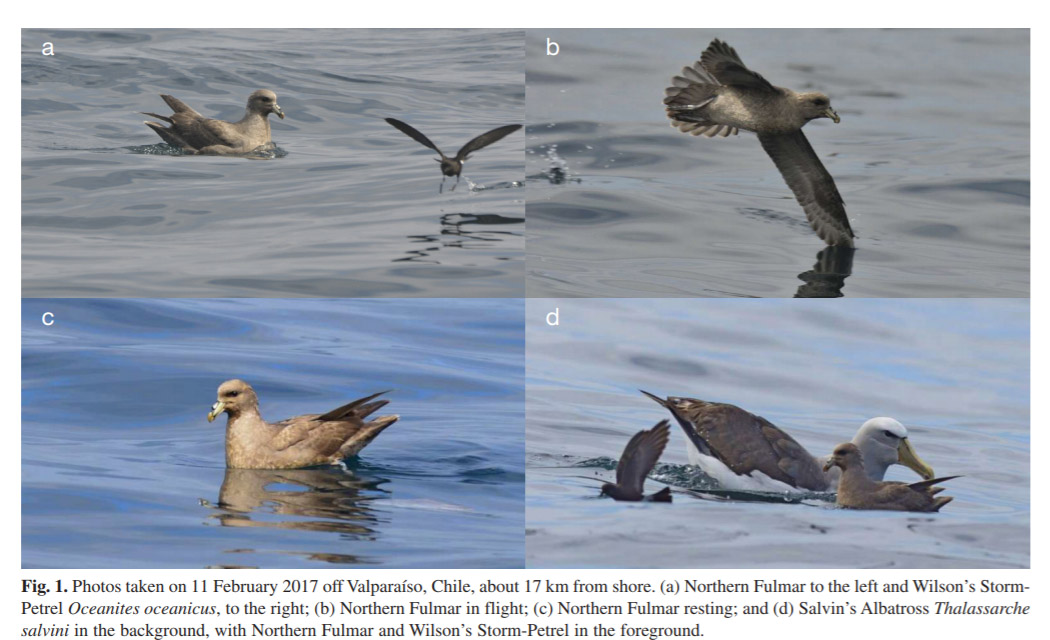 <![endif]>
Literature Cited
MARÍN, M., DÍAZ, F., GONZÁLEZ, R., GARRIDO, M. & BECK, J. 2017. First South American record of the Northern Fulmar Fulmarus glacialis. Marine Ornithology 45: 121–122.
MISKELLY, C.M. 2016. [updated 2017]. Northern fulmar. In: MISKELLY, C.M. (Ed.) New Zealand Birds Online. [Available online at: http://www.nzbirdsonline.org.nz/species/northernfulmar. Accessed 25 May 2017.]
Alvaro Jaramillo, June 2018
__________________________________________________________
Comments from Remsen: "YES.  Diagnostic, published photos, confirmed by expert opinion."
Comments from Stiles: "YES.  The photos and field marks enumerated by Alvaro for this bird look good for F. glacialis."
Comments from Pacheco: "YES. Well-founded record."
Comments from Areta: "YES, the photographic evidence and discussion are convincing."