Proposal (933) to South American Classification Committee
Add Tyrannus forficatus (Scissor-tailed Flycatcher) to main list
Effect on South American CL: This transfers a species from the Hypothetical List to the main list as a Vagrant species.
Background: Tyrannus forficatus is a regular migrant to the north of Costa Rica, and less common to the south of Panama (Fig. 1; eBird 2022).
<![if !vml]>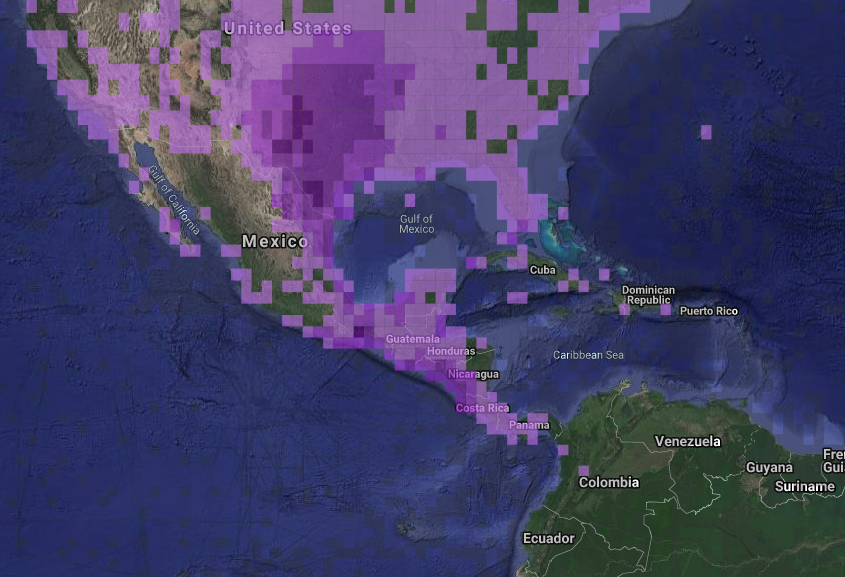 <![endif]>
Figure 1. Distribution of Tyrannus forficatus (eBird 2022). Purple squares represent the frequency of records/presence of the species, more intense purple corresponds to a higher frequency of records.
New records with evidence: One individual photographed in Chocó (Colombia) on 20 December 2018 by Rob Felix (https://ebird.org/checklist/S51126799).
Recommendation: The identification is obvious, and the photograph is archived, so I recommend a YES on this.
Literature cited
eBird. 2022. eBird: An online database of bird distribution and abundance. eBird, Cornell Lab of Ornithology, Ithaca, New York. Available: http://www.ebird.org. (Accessed: February 1, 2022).
Jhonathan Miranda, February 2022
Comments from Remsen: "YES. Obviously meets all qualifications for addition to main list."
Comments from Robbins: "YES for adding it to the list. Photos leave no doubt."
Comments from Stiles: "Definitely YES - the photo clinches it."
Comments from Areta: "YES"
Comments from Lane: "YES. The photos in this eBird list clearly show T. forficatus, and it looks like an overshooting migrant to Chocó should be expected."
Comments from Bonaccorso: "YES, absolutely agree."
Comments from Claramunt: "YES."
Comments from Zimmer:  "YES.  The two photos in the linked eBird list from the Chocó region of Colombia, are, without question, of a Scissor-tailed Flycatcher.  I used to see this species in small numbers on the Pacific Slope of Costa Rica (south to at least the Carara/Tarcoles region) on virtually every March-April trip, so not a big surprise that the occasional overshoot might make it as far south as the Chocó."
Comments from Pacheco:  "YES."